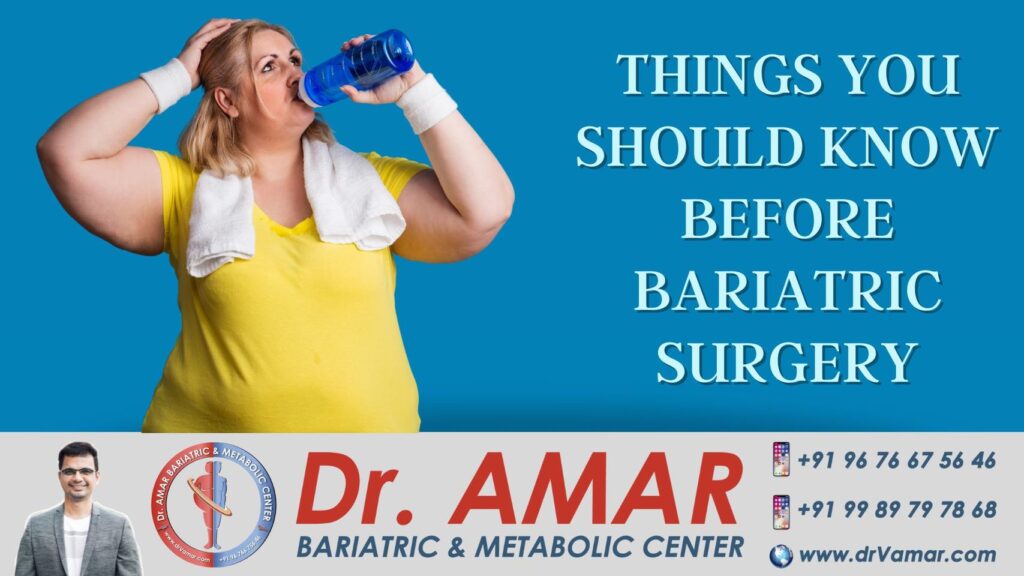 Bariatric surgery is necessary to induce long lasting weight loss in those suffering from severe obesity and to induce long term remission from diabetes in those suffering from uncontrolled type 2 diabetes.
You become more healthy. You will stop the medications needed for diabetes, high BP, high blood fats, and joint pains.
But before surgery, you should be physically and mentally prepared for what your life is going to be after surgery
HEALTHY DIET & PHYSICAL EXERCISE:
You need to be committed to change to a healthy lifestyle. Surgery is the strongest tool that helps you to lose significant amount of weight, which you couldn't have dreamed to achieve otherwise. But to maintain the lost weight you need to stick onto lifelong healthy diet and physical exercise.
SKIN LOOSENING:
Significant and rapid weight loss will make your skin look wrinkled and you may have a weak look. It will take some time for the skin to get tightened completely and to get back the tight skin and healthy look.
You can get massages done once in a week or two, exercise daily to hasten skin tightening.
HAIR LOSS:
You notice hair loss after surgery. This is because of significant weight loss. But this is temporary. Whatever hair you lose will come back once weight loss is stabilised. You need to take sufficient protein, and vitamins to reduce hair loss.
GALL BLADDER STONES:
Weight loss can result in formation of gall bladder stones. You need to hydrate well and avoid oil foods to reduce this risk. Your doctor prescribes you 'Ursodeoxy cholic acid' tablets during weight loss period to reduce this risk.
LOSS OF APPETITE & FOOD AVERSIONS:
Weight loss and diabetes remission after bariatric surgery are mainly due to changes in the hormones that control body fat. Because of these hormonal changes, your hunger comes down. And you will develop a lot of food aversions. Your taste alters. You start hating smells of foods. You don't feel like eating at all. And your stomach capacity is low. It will be full even after eating little quantity. In order to meet minimum daily requirements of nutrients and fiber, you have to plan a schedule and take food at regular intervals. Eat and drink small quantities more frequently to meet daily requirements.
DUMPING SYNDROME:
Eating sugar and refined carbohydrates lead to sweating, weakness, palpitations and dizziness especially after gastric bypass surgeries (Roux-En-Y Gastric Bypass and Mini Gastric Bypass). This problem is significantly less after Sleeve Gastrectomy or Sleeve + Bypass combination surgeries (SLDS, SADI-S, SG LDJB, SG LGIB). You have to avoid simple and refined carbohydrates to prevent dumping.
ESOPHAGEAL REFLUX:
Some surgeries can increase acid reflux into your food pipe. To prevent this reflux, you need to avoid chilly, spice and oil. You need to take small quantity of foods each time. And you may have to use medications to control reflux.
If you are mentally prepared for the new lifestyle, your weight loss and weight maintenence journey will be smooth and happy.
BOOK APPOINTMENT NOW..
Dr. AMAR VENNAPUSA
Chief Consultant Bariatric & Metabolic Surgeon
Dr. Amar Bariatric & Metabolic Center,
Hyderabad, India
www.drvamar.com
+91 9676675646
[email protected]